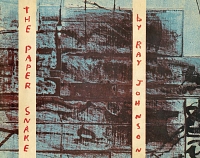 Artist's book
Originally published in 1965
Hardback with dust jacket
48 pages
9 x 11 cm
EUR 35
ORDER
Ray Johnson, The Paper Snake, Siglio, 2014
Long out of print (and coveted by Ray Johnson fans), The Paper Snake is an essential work in Johnson's oeuvre and the second title published by Dick Higgins's extraordinary Something Else Press in 1965. A vertiginous, mind-bending artist's book, The Paper Snake was far ahead of its time in its subversive and exuberant confluence of art and life. Assembled and designed by Higgins from his amassed collection of Johnson's letters, tid-bits and artworks (said Johnson: "all my writings, rubbings, plays, things that I had mailed to him or brought to him in cardboard boxes or shoved under his door, or left in his sink, or whatever, over a period of years"*), The Paper Snake connects disparate elements to unbed fixed relationships and forge new systems of meaning by means of scissors, paste and the American postal system.
An introductory essay by Frances F. L. Beatty, Director of the Ray Johnson Estate, is included as a separate insert, and in the spirit of the original, the print run is the same (1840 copies). This reprint is four-color offset, a different method than the original in which Higgins used a two-color process with innovative ink combinations.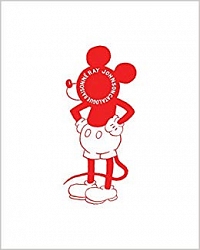 Artist's book, Monograph
Hardcover
296 pages
31 x 25 cm
Texts in English
EUR 49
ORDER
Ray Johnson, Pop Heart School Ray Johnson Taoist, Karma
Pioneer of mail art and an early participant in both the Pop and Fluxus movements, Ray Johnson created complex, punning works that ingeniously combine text and image, celebrity culture and art history, wit and melancholy. Figures such as Mickey Mouse, Elvis Presley, James Dean, Michael Jackson and Calvin Klein models populate his many collages. In the 20 years since his death, Johnson's work has become an increasingly accurate depiction of our fragmented and overstimulated society. This compendium includes 296 colour reproductions of collages, drawings, interventions and other ephemera from Johnson's estate.