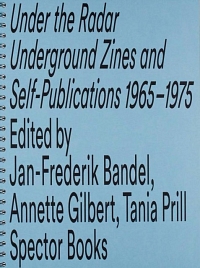 Books on Books
First Edition
Spiral-bound
368 pages
34 x 23 cm
Texts in English
New
EUR 38
ORDER
Jan-Frederik Bandel, Annette Gilbert, Tania Prill, Under the Radar. Underground Zines and Self-Publications 1965-1975, Spector Books, 2017
The mid-1960s witnessed a boom in underground and selfpublished works. Hectographs, mimeographs, and offset printing not only allowed for the production of small, lowcost print runs but also promote a unique aesthetic: using wild mock-ups, »messianic amateurs« combined typescript aesthetics, handwriting, scribbled drawings, assemblages of collaged visuals, porn photos, snapshots, and comic
strips. The typography consciously frees itself, in parallel to a liberalization of linguistic and visual forms of expression in the name of a new »sensibility«.
This book (which appears in conjunction with an exhibition at the Weserburg in Bremen) is the first to present the underground and self-published works that came out of West Germany in such depth, while also showing the internationalcontext in which they emerged: not as an anecdotal history but as an attempt to tap into the aesthetic cosmos of a Do-It-Yourself rebellion, one that also challenges us to take a new look at the current boom in "independent publishing", the risograph aesthetic, and so on.
Books on Books
Hardcover
176 pages
28 x 21 cm
Texts in French / Italian
New
EUR 58
ORDER
Josef Müller-Brockmann, Systèmes de grille pour le design graphique, Entremonde, 2017
Dans les années 1920 sont posées en Europe les bases d'une typo­gra­phie objec­tive et fonc­tion­nelle pour la com­mu­­ni­­ca­­tion visuelle. Partout, les avant-gardes embras­­sent la moder­nité et bou­le­ver­sent tous les domai­nes de la créa­tion. Cette révo­lu­tion visuelle trouve un nou­veau souf­fle à l'issue de la Seconde Guerre mon­diale en Suisse dans le design gra­phi­que. Le projet de trans­for­ma­tion sociale des avant-gardes laisse place à une com­mu­ni­ca­tion publi­ci­taire qui hérite de la rigueur et de la sim­pli­cité de ses pré­cur­seurs. Les pra­ti­ciens du style suisse entre­pren­nent une véri­ta­ble croi­sade pour défen­dre ces prin­ci­pes. Ce livre en est la plus remar­qua­ble expres­sion.

Ce manuel publié pour la pre­mière fois en 1981 est devenu très rapi­de­ment incontour­na­ble. Il expli­que com­ment conce­voir des grilles de mise en page pour com­po­ser du texte et des images. Un cha­pi­tre est consa­cré à la grille dans l'espace tri­di­men­sion­nel. Son auteur offre ici aux desi­gners un ins­tru­ment qui répond faci­le­ment aux pro­blè­mes ren­contrés dans la concep­tion gra­phi­que.

Josef Müller-Brockmann (1914–1996) a été un des plus influents desi­gners gra­phi­ques du XXe siècle. Il a d'abord tra­vaillé en Suisse comme illus­tra­teur et concep­teur d'expo­si­tion avant de pra­ti­quer un design gra­phi­que infor­ma­tif et fonc­tion­nel. Il a été un des fon­da­teurs de la célè­bre revue tri­lin­gue Neue Grafik. Il a acquis une renom­mée mon­diale avec le Systèmes de grille qui est rapi­de­ment devenu un clas­si­que du style suisse.