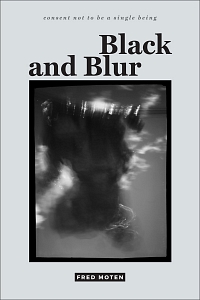 Criticism/Theory, Cultural Studies
First Edition
Softcover
360 pages
Texts in English
EUR 25
ORDER
Fred Moten, Black and Blur, Duke Press, 2017
In Black and Blur—the first volume in his sublime and compelling trilogy consent not to be a single being—Fred Moten engages in a capacious consideration of the place and force of blackness in African diaspora arts, politics, and life. In these interrelated essays, Moten attends to entanglement, the blurring of borders, and other practices that trouble notions of self-determination and sovereignty within political and aesthetic realms. Black and Blur is marked by unlikely juxtapositions: Althusser informs analyses of rappers Pras and Ol' Dirty Bastard; Shakespeare encounters Stokely Carmichael; thinkers like Kant, Adorno, and José Esteban Muñoz and artists and musicians including Thornton Dial and Cecil Taylor play off each other. Moten holds that blackness encompasses a range of social, aesthetic, and theoretical insurgencies that respond to a shared modernity founded upon the sociological catastrophe of the transatlantic slave trade and settler colonialism. In so doing, he unsettles normative ways of reading, hearing, and seeing, thereby reordering the senses to create new means of knowing.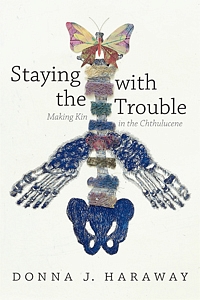 Nature / Culture
First Edition
Softcover
312 pages
Texts in English
New
EUR 32
ORDER
Donna Haraway, Staying with the Trouble. Making Kin in the Chthulucene, Duke Press, 2016
In the midst of spiraling ecological devastation, multispecies feminist theorist Donna J. Haraway offers provocative new ways to reconfigure our relations to the earth and all its inhabitants. She eschews referring to our current epoch as the Anthropocene, preferring to conceptualize it as what she calls the Chthulucene, as it more aptly and fully describes our epoch as one in which the human and nonhuman are inextricably linked in tentacular practices. The Chthulucene, Haraway explains, requires sym-poiesis, or making-with, rather than auto-poiesis, or self-making. Learning to stay with the trouble of living and dying together on a damaged earth will prove more conducive to the kind of thinking that would provide the means to building more livable futures. Theoretically and methodologically driven by the signifier SF—string figures, science fact, science fiction, speculative feminism, speculative fabulation, so far—Staying with the Trouble further cements Haraway's reputation as one of the most daring and original thinkers of our time.